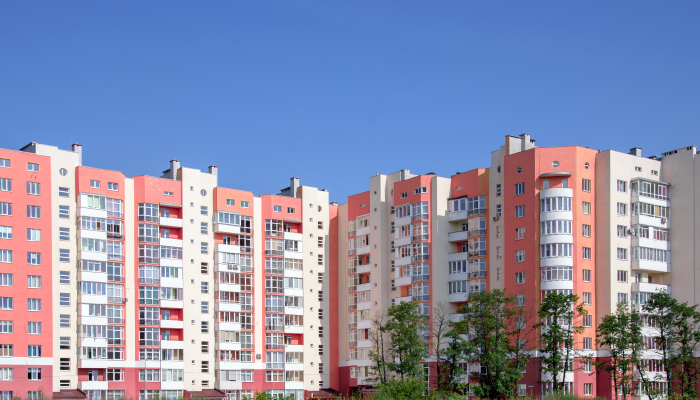 Poor repair choices and the lack of a good maintenance plan could mean you're wasting an already-tight property management budget. To add insult to injury, poor strategizing means your staff members are not working as effectively as they could be—and residents may be growing disgruntled.
Things don't have to be this way, assures housing expert Paul Flogstad in his webinar for Audio Solutionz, "Develop a Cost-Effective Maintenance Plan for Multifamily Properties." By effectively scheduling maintenance tasks, you can minimize the little, extra costs that add up and be sure you get the most bang for your maintenance buck.
Use This Rule of Thumb: Costs Should Be Half of Income
Getting a handle on maintenance is key for your bottom line, say property investing consultants Jake & Gino. For a multifamily housing property, the budget line item for maintenance should equal about 50 percent of total income.
That's not a small number. But figures too far on either side of the median represent trouble: If expenses are higher, your property is likely being run inefficiently. If your maintenance expenses are lower, that's a red flag: The landlord is either overstating income or understating expenses, Jake & Gino say.
Example: According to a 2016 annual summary from the National Apartment Association, members reported that maintenance costs were $476 per unit—an increase from the 2014 figure of $434 per unit.
Develop a Maintenance Plan—and a 3-Part Budget
Not all maintenance costs are created equally, and understanding the three kinds of maintenance expenses can help you better craft a budget, says Multifamily Insiders.
A monthly budget should include costs for turnover expenses, preventative maintenance, and service requests, according to Multifamily Insiders:
Turnover expenses include standard items such as caulking in the bathroom or drip pans for the kitchen cook top.
Preventative maintenance covers basic items such as smoke detectors and air filters.
Service requests can run the gamut, from door adjustments to appliance fixes. Note that up to one-fifth of such repairs will cost nothing, and nearly two-thirds will cost less than $20.
"Working from a plan will allow a manager or maintenance supervisor to identify potential shortfalls in the monthly budget," Multifamily Insiders explains. "This might allow for spending adjustments, to assist in expense management. Working from a maintenance plan can provide structure to maintenance spending."
Focus On Regular Maintenance to Avoid Surprises
A good maintenance plan can do more than contribute to a healthy annual budget, says Leonardo 247, which produces performance management software. The company promises that, by working to develop a maintenance plan, you can:
Create a safe environment for your residents: You're regularly maintaining systems and assuring all are safe, reliable, and in good working order.
Extend the life of your systems: You're regularly inspecting systems and correcting small issues before they become big problems.
Avoid unplanned maintenance interruptions: Your regular attention preempts surprises, such as a boiler unexpectedly going out, that mess with both your maintenance schedule and your carefully set budget.
Of course, a good maintenance plan will do more than just keep the pool open, says Flogstad in his webinar, "Develop a Cost-Effective Maintenance Plan for Multifamily Properties." With a good plan for your multifamily property, you can implement staff performance measures, get a handle on costs, and recognize the repairs that waste the most time. Best of all, he says, you can effectively and accurately manage costs in terms of time and materials.
To join the conference or see a replay, order a DVD or transcript, or read more