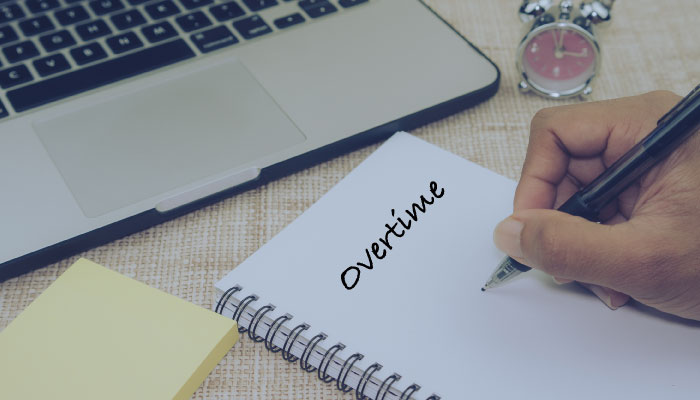 As California goes, so goes the nation—and employers may find that goes for overtime pay and workplace lawsuits, too.
California law broadly defines overtime pay and who gets it, noting "Eight hours of labor constitutes a day's work, and employment beyond eight hours in any workday or more than six days in any workweek is permissible provided the employee is compensated for the overtime."
Under federal overtime laws, once an employee works more than 12 hours a day, or more than eight hours a day for six consecutive days, the pay rate bumps to double. Department of Labor regulations exempt executives, high-earners and professionals such as drivers, actors, student nurses and some journalists, so those white collar professionals are known as "exempt" employees who are generally not subject to overtime pay.
A new DOL rule that would have basically doubled the minimum salary under the Fair Labor Standards Act (FLSA) for an employee to be exempt under those DOL regs was challenged in court and has been rendered a dead letter by the Trump administration.
Changes on the Horizon
But in California, there is still pressure to change some of the exemptions to overtime earnings. A bill that passed the state assembly but was stalled in the senate in Sacramento said that white collar workers would be exempt from overtime if they earn a monthly equivalent of $3,956 or twice the state minimum wage, whichever is higher.
The California bill, which was backed by labor unions, was a strike back at the probable failure of the new federal standards under the Trump administration. "The Fifth Circuit's grant of the DOL's dismissal all but ends the possibility that the Obama administration's DOL overtime regulations will ever go into effect," noted one legal analysis.
But, "Even though the Obama administration's overtime regulations have been declared invalid and the DOL has dropped its appeal, employers should still expect that the current DOL will move to increase the salary threshold. Secretary of Labor Alexander Acosta has publicly stated that he would be open to increasing the minimum salary level to 'something around $33,000,' so it would not be surprising if the DOL ultimately adopts a salary level in that range."
The wrangle over overtime pay is just one way that California is proving its pro-labor chops. State law calls for meal and rest breaks—things not covered by the FLSA—and the California law even says that workers denied some breaks can receive extra pay.
Keeping the Feds Out and Letting Workers Sue
California struck back at the Trump administration in another major way this year. Under a bill that did pass, worksites in California that voluntarily allow federal immigration officers to enter the property will be in violation of law beginning January 1, 2018. Site supervisors must demand to see a warrant or subpoena first or face a fine of up to $5,000 on the first offense. A second law barred state law enforcement officers from arresting people based on civil immigration warrants.
"These are uncertain times for undocumented Californians and their families, and this bill strikes a balance that will protect public safety while bringing a measure of comfort to those families who are now living in fear every day," Gov. Jerry Brown said when he signed the second law.
Meanwhile, federal-level attempts to let employees bring class-action suits against their employers seem likely to falter, but another California rule may be adopted by states seeking a workaround. That law allows people to act as "private" attorneys general and bring cases against companies on behalf of the government. One labor-aligned group said it will campaign for a similar bill in four states in 2018, with New York a likely ally.
"It's the latest skirmish in a long war," noted one industry watcher. "Over the past couple of decades, companies have increasingly required their employees—and their customers—to surrender the right to class action in a courtroom, and instead bring any grievances to individual arbitration hearings."